An Oregon Road Trip of a Life time.
What about an Oregon Road Trip?
How many times have you and your family asked yourselves, Where do we want to go explore this summer or this weekend if you live close enough.
Well, try Oregon, It has it all.
From majestic year around snow caped mountains, to 600 ft water falls.
From the Painted Hills in the high desert country, to christmas valley.
From fertile valleys growing everything from tulips to pumpkins.
From the rivers flowing off the snow filled mountains down to the beautiful Oregon coast, to the shimmering lakes you pass on the way.
Cruising down the Road in Oregon is an unbeatable destination.
One way to cruise Oregon's beautiful clean roads is to become a Travel Agent.
Let's make that a
Oregon Travel Agent.

Think about it.
What could be better that living in Oregon and helping others to have the time of their life's and getting paid for it.
I remember some of the best days we had as a family was throwing everything we could think of in our camper in the late 60's
With 5 of us in a 3 seat chevy truck cranking up the 8 track with horrible speakers.
As soon as we found a great quiet river bank that's where we would camp.
I was always the 1'st to gather up fire wood so we could cook hot dogs and roast marshmallows just burnt a little bit but not too much.


Yah, That's the times I remember the most.
I'm sure that as you are taking your family camping and fishing that these will be the memories that they will remember the rest of there lives.
For more information on this road trip and more see my friends at Roadtrip.com.
If Oregon is not on your radar screen as the perfect place to plan a road trip then it should be.  There's lots to do in this state including amazing whitewater and outstanding wineries.
When you plan your road trip there's a couple key things that you need to keep in mind so that you don't feel overwhelmed or have too little time to do everything you originally wanted.  This chart will help you determine how many activities that really should plan in advance for your trip.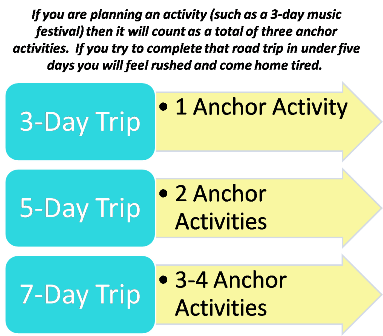 There are so many great road trip ideas that you can fill in with your key anchor activities such as whitewater rafting or an amazing backpacking experience through the Mount Hood area of the state. 
While you are on your trip make sure that you download some new songs on your mp3 player and check out some original road trip games that will make your vacation a memorable experience that you will talk about for the rest of your life. 
About Me